According to a report, women are abandoning the North American Grappling Association (NAGA) Brazilian Jiu-Jitsu tournament after being forced to compete against male-born transgender opponents.
Female-born athletes are up in arms after male-born "transgender" competitor Corissa Griffith took home four gold medals at a tournament in Georgia on Oct. 21, and they are responding in force, Reduxx reports.
The issue has been roiling Brazilian Jiu-Jitzu since Sept. when female competitor Taelor Moore told fans how upset she was to be suddenly confronted by a male-born opponent without being told beforehand.
California athlete Taelor Moore faced the transgender opponent on Sept. 9 and posted the video to her Instagram page with the caption, "I weighed in at 135 … and she was over 200!"
Moore's video shows her opponent, James McPike, 29, who recently began going by the name "Alice," seeming to throw Moore around the mats easily.
Female Jiu-Jitsu competitors are becoming alarmed at the number of transgender athletes joining their sport, with the chief complaint that they fear being injured by a more powerful male opponent.
After the bout in Sept., NAGA made efforts to clarify its rules on trans athletes.
"NAGA does not require biological women to compete against transgender women. Instead, we give the choice to the biological women and if they decline, they compete in a division only with other biological women," the organization said.
However, female competitors say that NAGA has continued to pair male-born competitors with females.
Competitor Jayden Alexander, for instance, said she has been shocked by the influx of male-born opponents.
"I honestly never thought this would actually happen in a contact sport, especially not MY contact sport," Alexander, who is a Brazilian Jiu-Jitsu blue belt, told Reduxx. "When I saw him, I was so shocked I didn't know how to respond."
Ansleigh Wilk noted that she was never told that she was going to face a transgender opponent until she stepped onto the mats.
"I hadn't been notified. The only thing that brought it to my attention was my teammates. They kept asking me, 'Are you fighting a man' and I was honestly too focused on coaching the rest of the crew to really pay attention to my opponent," Wilk explained.
"I realized very quickly I couldn't muscle them like most girls," the brown belt Wilk said. "Well, obviously, because it wasn't a girl! Then, not long after, I had to do a second match of which Cordelia threw a tantrum saying [he] 'didn't tap [out].' I was sincerely scared [he] was going to punch me when I stuck my hand out to shake [his]."
They also said that it was clearly different fighting against a male-born opponent than it is facing a female.
Consequently, at the Oct. 21 event, several women refused to compete when they found out several male-born trans athletes had been approved to compete, Reduxx says.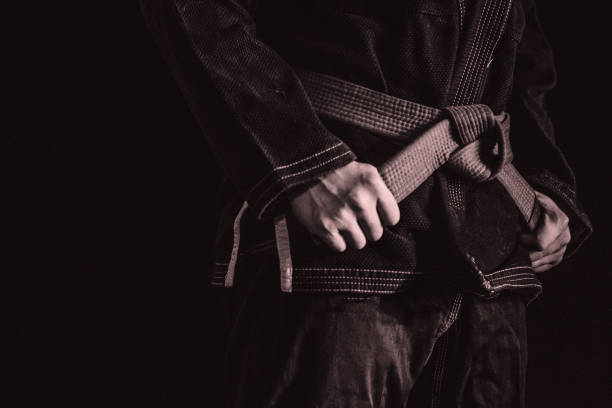 Asian man practicing Brazilian Jujutsu- closeup of hand holding belt. (Kilito Chan/Getty Images)
"There was not just one, but two trans-identified males who were signed up in a bracket that me and several other women should have been able to sign up for but couldn't because we didn't want to go against the men," Alexander said. "And for a man to be able to come in and sign up in the women's bracket and discourage us from even being able to compete at all is absolutely heartbreaking and honestly scary."
Wilk added that most of the women in Brazilian Jiu-Jitsu are afraid to be tagged as haters and won't speak up about the problem.
"The majority of the women feel scared to even speak out about this matter. They don't want to be labeled a bigot or transphobic," Wilk insisted. "There's so many girls just not signing up now because they are allowing this. Women's sports will cease to exist if this keeps up. Medals, belts, records, and money are going to be stripped right away from women."
Another competitor, Marshi Smith, says she knows several real women who have decided not to compete over this issue.
"I have now spoken to four women who have all fought male fighters in the combat sport of Jiu-Jitsu. They are extremely upset. They are self-excluding," Smith told Reduxx. "They are emailing federation leadership and being dismissed. These organizations and teams that are encouraging this dangerous display of violence against women need to be publicly shamed into doing what is right for women or reap the outrage that comes with cowardice."
Women who have trained for years to compete in Brazilian Jiu-Jitsu have been frightened right out of the sport they love, thanks to the inclusion of male-born trans opponents.
Follow Warner Todd Huston on Facebook at: facebook.com/Warner.Todd.Huston, or Truth Social @WarnerToddHuston