As a rule, I don't get involved in the antics of small-bore Democrat politicians, but sometimes they are so hilarious that you can't let them pass by.
The star of this story is Democrat Mayor Lamar Thorpe.
In 2020, he was elected mayor with 45% of the vote. He ran on a platform of " neighborhood safety, police reform, homelessness and blight." as a self-described "Soldier in the Political Revolution."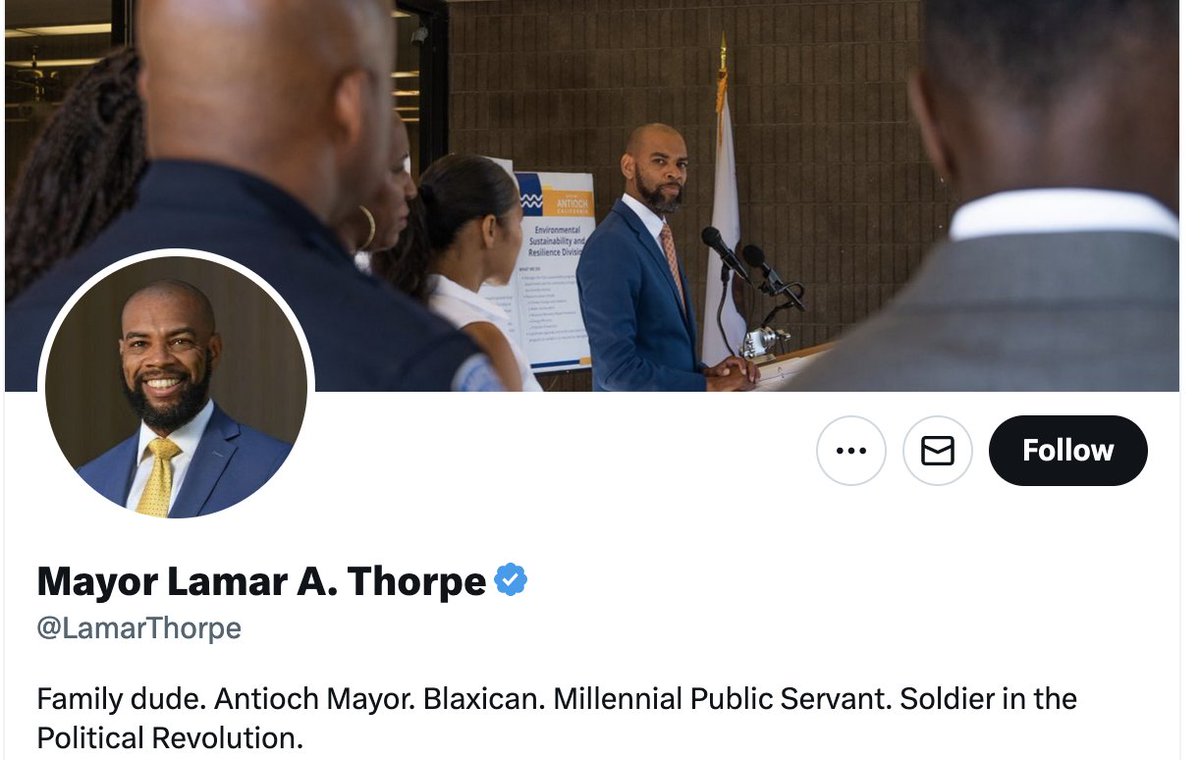 To say his tenure has been turbulent on a personal level is an understatement.
In March 2022, Thorpe was arrested for DUI. However, because he is in a one-party state and a member of the correct party, his colleagues praised his statement "taking accountability" for endangering other citizens instead of being asked to resign.
In October, more evidence surfaced indicating that Thorpe considered the women working around him to be party favors.
The release this week of an investigation detailing his sexual harassment, including groping, of two subordinates while he was executive director of the Los Medanos Healthcare District should be the final straw.

The investigation found sufficient evidence that Thorpe grabbed the bare leg of one of the women, made inappropriate comments to her and even commented that his behavior constituted sexual harassment. And that Thorpe made inappropriate and vulgar comments to the other woman, then grabbed her buttock.
…
The incident involving the first woman occurred in June 2021 at an Antioch bar to which Thorpe had invited her and her boyfriend, who witnessed the leg-grab. The woman believed Thorpe was drunk, according to the account she gave the investigator. She and her boyfriend in separate interviews quoted Thorpe as saying, "This is sexual harassment, I should stop."

The incident involving the second woman occurred in August 2021 at a work conference in Monterey. Witnesses behind the woman and Thorpe saw him walking in a zig-zag fashion consistent with alcohol consumption and hanging on to the woman. The woman recounted that Thorpe made a vulgar comment indicating he wanted to have sex with her and then grabbed her buttock.

…

City Clerk Ellie Householder, a former ally, broke ties with him "because of his increasingly erratic and hurtful behavior," she wrote in a Sept. 17 letter she posted on Facebook.

"A person I have loyally stood by for years has used his power and influence over women to take advantage of them, and for this, I am truly sorry. To the women; I am sorry. I see you. I hear you, and I believe you."

Lacey Ferguson, a local progressive political activist and former Thorpe supporter, says she had been an occasional consensual sexual partner of Thorpe and was not claiming to be a victim. But, in a Sept. 18 Facebook video, she defended the two women who filed the sexual harassment claims and said she was speaking out against the "culture and history of misogyny that does surround Lamar."
His cringiness cost the city $350,000, and the alcohol abuse seems to be a recurring theme.
The same editorial also noted Thorpe's erratic and abrasive behavior had fragmented the City Council. Then, in May 2022, he narrowly survived an attempt to recall him when the company hired by the recall committee absconded with the money and the signatures they'd collected.
In fairness, maybe Thorpe has a reason to drink. About a dozen of his police officers have been busted using racial and "homophobic" slurs in text messages.
I guess all of the pressure is getting to Mayor Thorpe because he completely lost his sh** at a city council meeting Tuesday night. It all started when a resident, identified as Sal Sbranti by the San Jose Mercury News, addressed the council.
The transcript is below; I encourage you to watch the exchange to fully grasp the level of nutbaggery going on. But if you want to go straight to the fireworks, they start at 2:14.
Sbranti: Good evening, Mayor, City Council members/

I have a number of bulleted items. Measure C passed with 68.9 percent of the vote, that was in 2013. Measure W passed with 66 percent of the favorable vote. Both these measures were sold to the public as an effort to increase safety and security in the city of Antioch by increasing the police force. There was a mandate.

Lamar claims he has a mandate from the public with a 44 popular vote, Tamisha with a 33 percent popular vote, and Monica with the 35 percent popular vote.

It's on Facebook postings by Ellie Householder and Lacey Ferguson, plus his previous issue while working in the county [note: this was the sexual groping escapade], I believe Lamar should be investigated by the City Attorney to determine if he has created a hostile work environment. You should be doing that! I would like an audit of text messages between Lamar and Shagoofa [Khan] during the period of time Shagoofa was charged.

You want audits, let's get an audit of your text messages.

[Off camera shout] Let's get it!  Let's get it!

I would like to see — yeah, I will get it — I'd like to see the police cam video when officers went to Council Member Tamisha's home. I'd like to see that. I would like to know the agreement between Con Johnson and the city as to how he's going to be paid when he's released from his job because you guys know you're going to be paying him a lot of money.

I'd like to know the selection criteria used to select Con Johnson as a city manager and who else was evaluated for the position.

Finally, because I won't stay for the other one, management and leadership consultants all agree that it takes seven to eight years to effect culture change. Not one, not two. I personally believe that we're in the midst of a possible positive culture change with our previous two police chiefs and that our present police chief, Dr. [Steven] Ford is another positive addition to making this happen. If you keep changing people, keep making excuses of a poor job you, our city council, are doing.
At that point, Thorpe goes batsh** crazy.
That is a dog whistle, dog whistle racism. [Thorpe stands, jabs finger an departing speaker and starts shouting.] An apologist for what's absolutely wrong.

You want to go outside right now? Let's go!

[Thorpe sits down.] I am sick and tired of being attacked by these people [hmm, wonder who "these people are"?] in this community apologizing for the racism that is going on in this community! [Jabs finger at the audience] You're the problem! You're the problem!
Apparently, demanding clean, transparent local government is some kind of previously undiscovered bigotry.
I don't pretend to be an authority on California politics, even on the internet. I don't know if Thorpe has a future because who in their right mind thought the route from California to the Naval Observatory in Washington, DC, led through Willie Brown's ample drawers? I also recall when anti-gun pencil-neck David Hogg first began his epic grift after the Parkland shooting, we, on this site, were forbidden to criticize him because somehow it would make us look bad. And you can see how well that worked out for us.
Thorpe is a petty autocrat with no constraints on his appetites and rages because there is no political opposition in most of California. He needs the attention because he should not be able to stealth-maneuver himself into higher office…even in California.